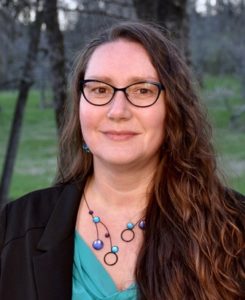 Elise currently lives in Nashville, Tennessee (USA) with her partner George and dog Fergus. She has a career in Information Technology that spans over 27 years. Her specialty lies in Program and Project Management, and she has created and directed multiple Project Management Organizations (PMOs).
In her personal life, she enjoys traveling, reading, classical music, writing, technology, and poetry. Hobbies include learning French and Russian, learning to play cello, and playing cool video games like The Legend of Zelda: Breath of the Wild. In 2019, she ran a campaign for local City Council, but lost a runoff election by less than 50 votes. She might run for office again at some point in the future if the opportunity arises.
Elise earned a Master Degree in Public Administration in 2011 with a certificate in Domestic Violence.  An MPA degree is similar to an MBA, but it focuses on government and non-profit organizational management. She has over 27 years of volunteering experience with organizations that work to end domestic violence and sexual assault – including several years volunteering for a local Denver rape crisis hotline and coordinating self-led survivor discussion groups.
Nearly 1 in 4 women and 1 in 6 men in the United States will experience violence by an intimate partner at some point in their lifetime. Nearly 1 in 6 women and 1 in 33 men have experienced some form of sexual assault in their lifetimes. It's estimated that in the USA, a sexual assault occurs every 73 seconds. Less than 20% of sexual assaults in the US are reported to the police, and less than 5 of every 1000 sexual assaults (0.5%) lead to a perpetrator being convicted and spending time in prison for the crime.
There are many reasons why a survivor chooses not to report a sexual assault or domestic violence. It is important to support the choice of the survivor and empower them to do what they believe is best for themselves (rather than coercing them into an outcome you prefer and unintentionally re-traumatizing or disempowering them).
For more information or help accessing resources for survivors, please go to the following websites:
Sexual Assault – RAINN – https://www.rainn.org/
Domestic Violence – National Coalition Against Domestic Violence (NCADV) – https://ncadv.org/
Online Safety for Survivors – National Network to End Domestic Violence (NNEDV) – https://www.techsafety.org/blog/2019/10/31/cyber-safety-for-survivors-of-domestic-violence